Manufacturers today must produce at a higher output if they want to keep ahead of the competition. This is a difficult task if you don't own a CNC machine. And impossible if your machine is of poor quality and constantly breaks down. To stand out and make significant increases to your ROI, you need a reliable machine that's easy to maintain.  We redesigned the AXYZ Infinite Router for this purpose. With 25 years plus years' experience making machines for a host of happy customers, the Infinite was redeveloped from the ground up, easily meeting the requirements of a demanding marketplace. If you've decided to invest in a router, here are the top reasons why the Infinite should be at the top of your list: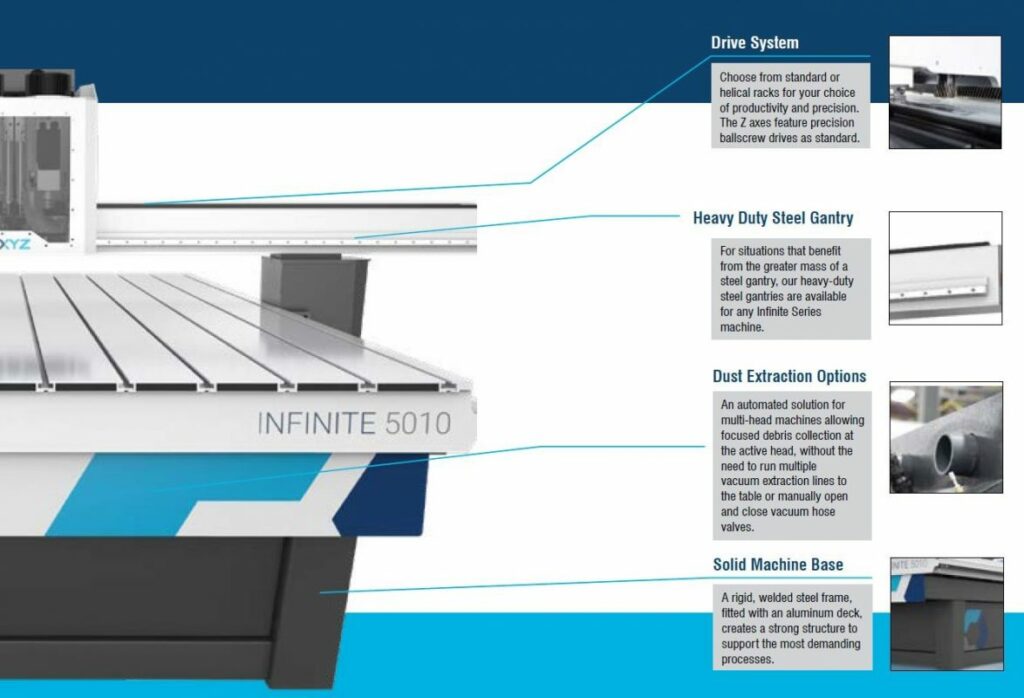 DESIGNED TO LAST A LIFETIME:
Our routers are made in Canada, using high quality parts that make the Infinite a reliable and robust machine. This includes:
A strong structure to support the most demanding processes, resulting from the new heavy-duty base and gantry legs.
A reduction in clogging and ability to use longer tables, due to the new dust extraction system.
Easier access for service, created from the redesigned welded carriage that ensures sturdiness and a sleeker aesthetic.
Reduction in maintenance costs, due to the lifetime cost savings of a well-engineered machine over a cheaper model.
TECHNICAL SUPPORT THAT'S EASY TO ACCESS:
There's nothing more disappointing than buying a new CNC router and then discovering it comes with little to zero technical support. When you buy from AXYZ, support is easily available, including:
Remote diagnostics –Using the latest technology, our Technical Specialists get access to your machine's computer system to quickly assess and troubleshoot the situation. A majority of the time, the issue is resolved over the telephone without going onsite.

Onsite-Visits: For issues that require an onsite visit, a telephone call allows us to get to the root cause quickly and identify what parts to bring to the customer. Less time onsite means higher level of productivity and minimized downtime– a definite plus for the customer.
Service Support Plans – If you become a member of one of our service support plans, your issue receives priority status and resolutions are even quicker.
CNCShop.com – Find replacement parts and consumables quickly with our flagship online shop. We also have promotions available regularly, making it easier for you to save and invest back into your business.
Everyone loves a good deal, we get that. But choosing a cheap CNC machine will ultimately cost you more in repairs than you bargained for. The Infinite is worth your investment. Engineered for excellence, this is a machine that will outlast the competition and help your business grow for many years to come.
NEED MORE INFO?
Contact us today to discover more reasons to choose the Infinite. Or, schedule a training session, visit one of our CNC Machine Expos and see for yourself what makes the Infinite a router you can rely on.