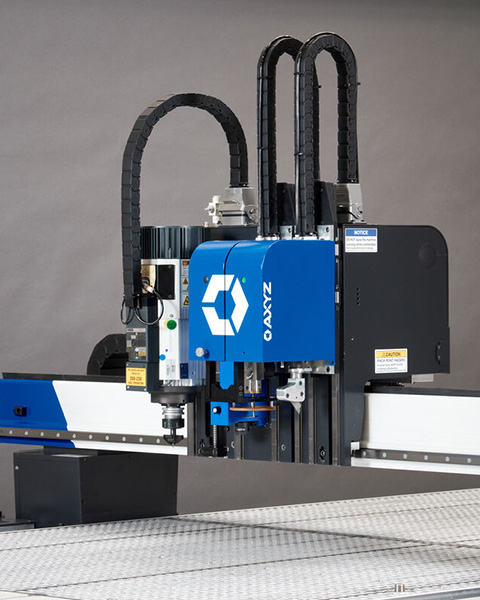 Ready for Any Job
TRIDENT comes in a standard 3 device configuration, consisting of a spindle, tangential knife and oscillating knife, providing you with the right cutting tools to process virtually all materials used in the industry.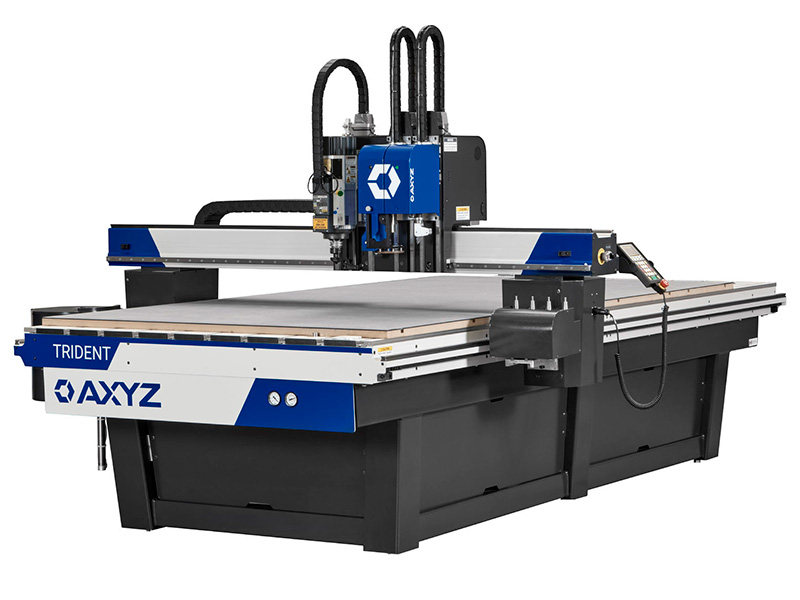 Robust Construction
Though a highly versatile machine, TRIDENT does not sacrifice performance and reliability for its capabilities. Built on a robust all-welded steel frame, a heavy-duty gantry system and powerful direct-drive servos, the machine is prepared to tackle the toughest materials.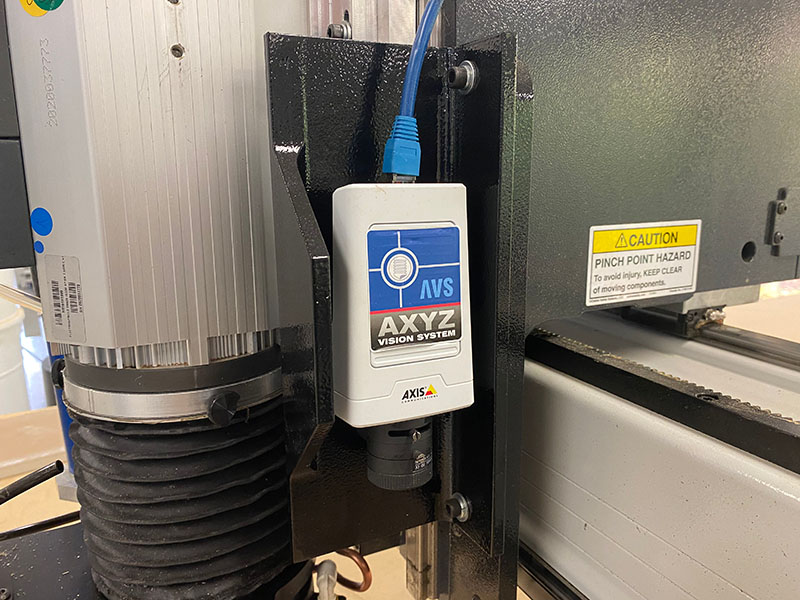 Optimized Workflow
The AXYZ Vision System (AVS) is used to accurately line up all your printed material to ensure minimal use of bleed lines. Other devices such as the knife calibrator or the automatic tool tip sensor offer further automation to reduce manual processes.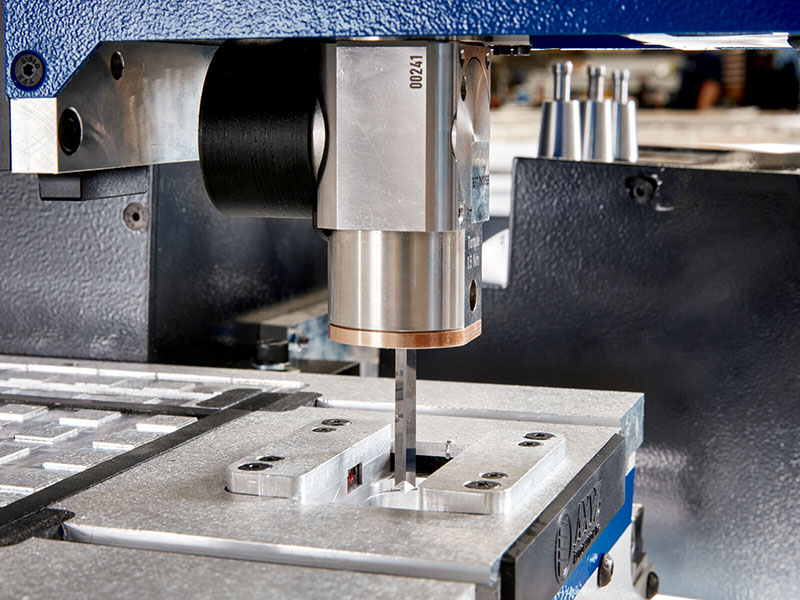 Increase Productivity
Ranging from O flute tools to cut nonferrous metals, to flat point, single edge blades to cut foam board, TRIDENT's unique configuration allows you to maximize the productivity of a single machine.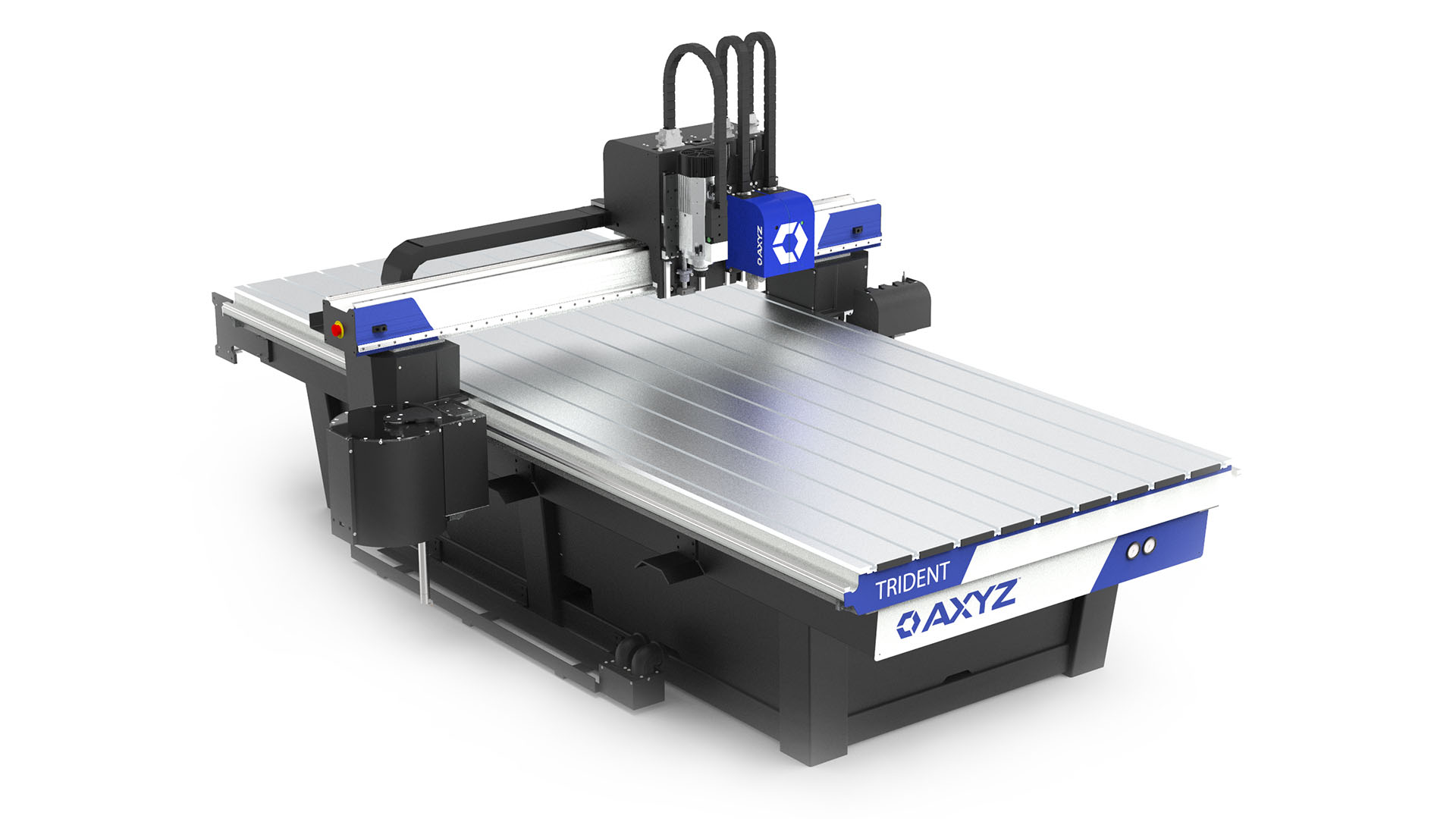 Trident 4000 Series
Width of 60 inches (1,524 mm), lengths from 8 feet (2,438 mm) to 24 feet (7,315 mm)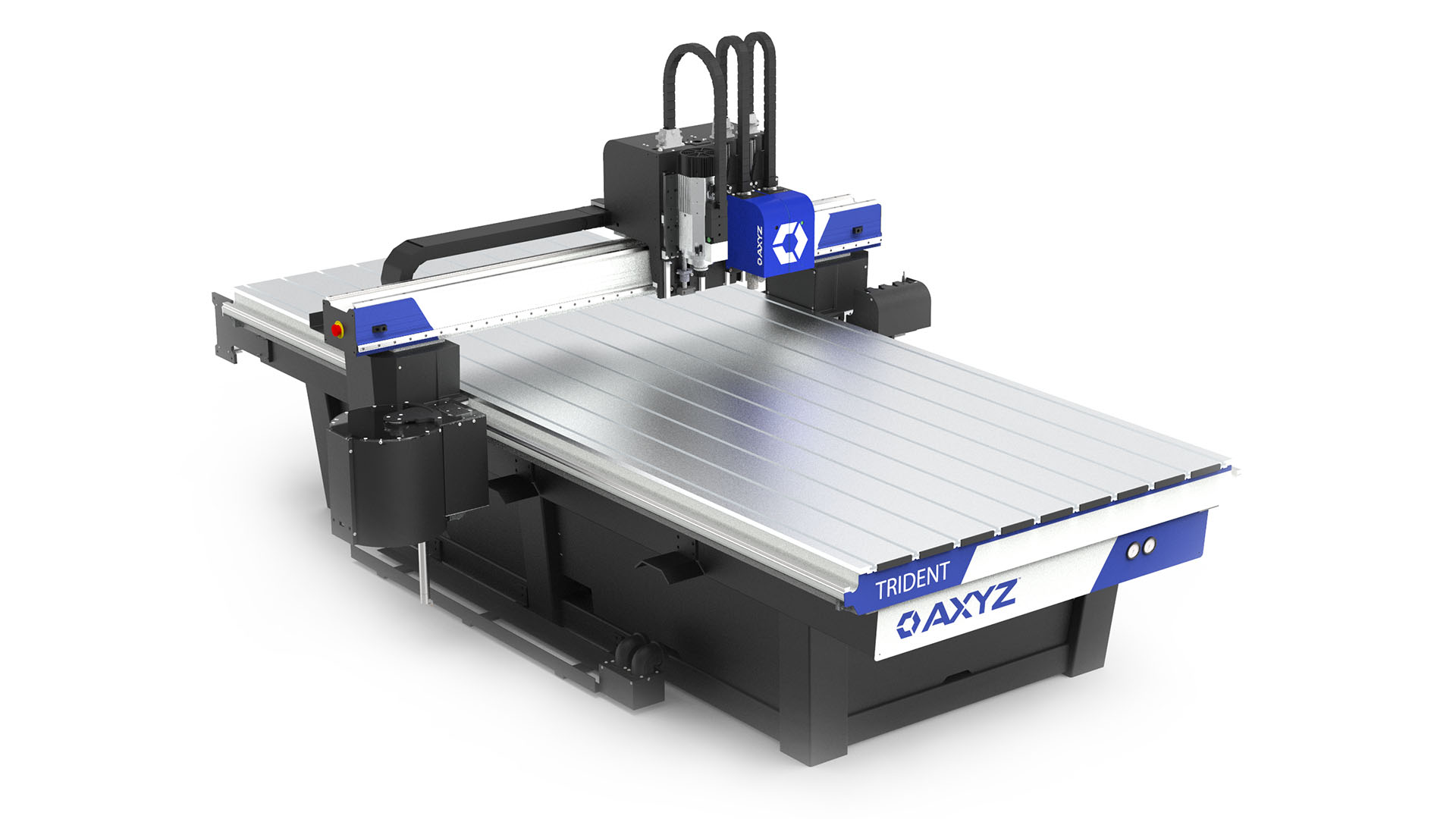 Trident 5000 Series
Width of 72.5 inches (1,840 mm), lengths from 10 feet (3,048 mm) to 24 feet (7,315 mm)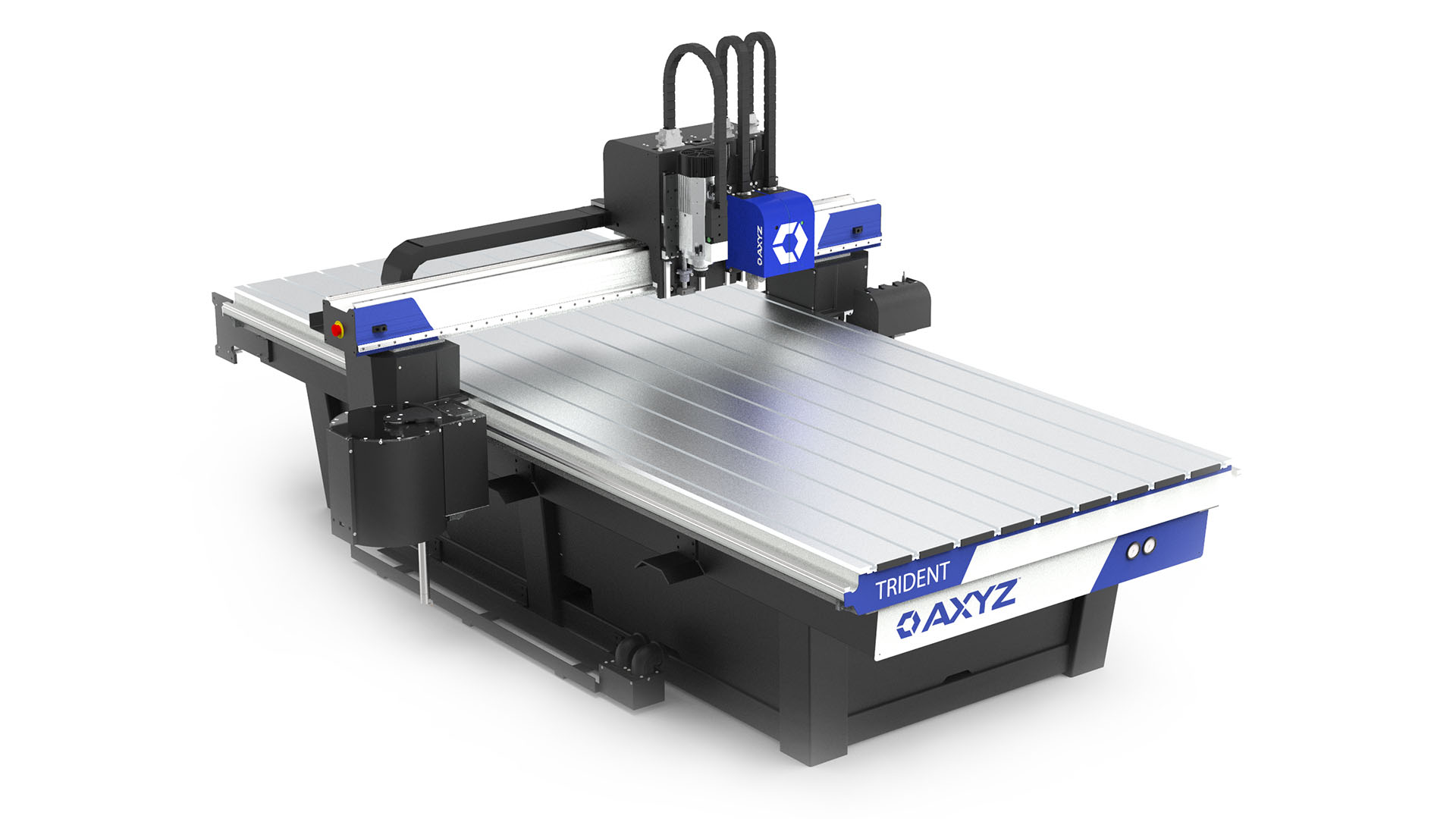 Trident 6000 Series
Width of 85 inches (2,159 mm), lengths from 10 feet (3,048 mm) to 24 feet (7,315 mm)
For high productivity, TRIDENT can achieve X, Y axis traversing speeds of 2200 inches (55 Metres) per minute (IPM) and a respective 1,000 IPM (25 Metres/m) for all knife head Z axis travel. This is due to the premium drive system and helical rack & pinion
TRIDENT is designed and built 100% at our Ontario, Canada facility to ensure the utmost quality. It uses high quality components to ensure it lasts decades
With over 30 years of experience manufacturing machines and serving this market, all our features are tailored to process the materials most used in the industry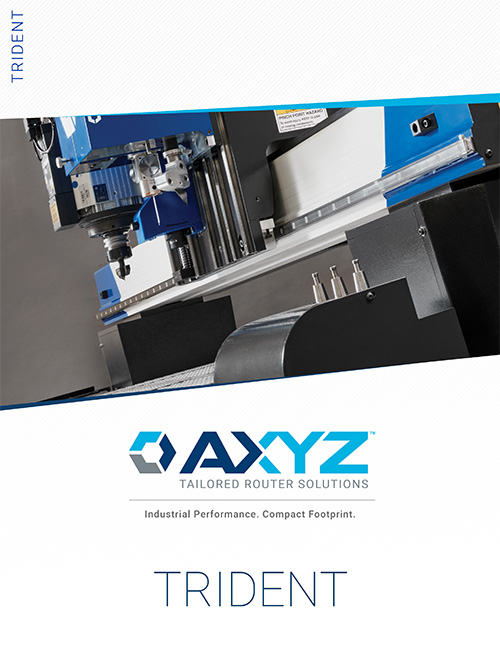 Perform Better
We invite you to learn more about how our TRIDENT CNC router can help you perform better in your industry.
Get in touch
Join our team
Your perfect job is one click away. Take a look at our current opportunities here.