The purchase is made, the install is complete. It's time to amp up your business with some of the best CNC technology around. But the journey doesn't stop here. A question might pop up about the correct speed to use for a specific application. Or the edge quality of your cut pieces doesn't match the finished product in the video. Who do you call? The AAG Customer Care Support Team. Your connection to the technical expertise you need, when you need it, so you can bring your business to the next level and outshine the competition.
In this video, AAG CEO Luke Hansen-MacDonald asked our customers "Why did you stick with us for all these years?" If you're familiar with the AAG brand of products, the answer is not surprising. For customers of both AXYZ routers and WARDJet waterjets, customer service ranked high on their list of importance. When packaged together with product reliability, team collaboration and easy-to-use software, the AAG commitment to customer service exceeds customer expectations every time.
"What we do takes expertise. Also, the right equipment, the right machinery. The people here – their talents, their skills, their experience."
Mary, Korman Signs
QUESTIONS ABOUT ROUTERS?
Please complete our online contact form for information about AXYZ routers or browse our collection of CNC routers here.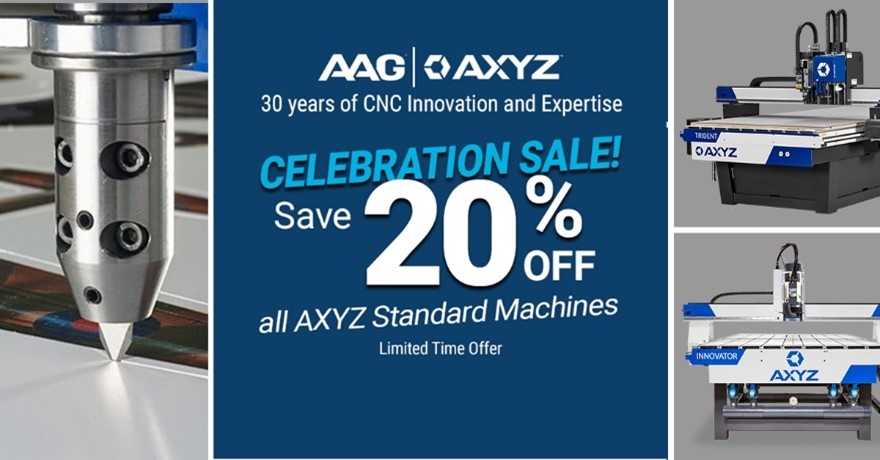 IT'S OUR 30TH ANIVERSARY!
To celebrate, we're offering 20% off all AXYZ routers. That's significant savings for a new router you can add to your workshop! Contact us today for the details on this unprecedented offer. Call (US) 1-800-361-3408 or (UK) 01952 291 600.