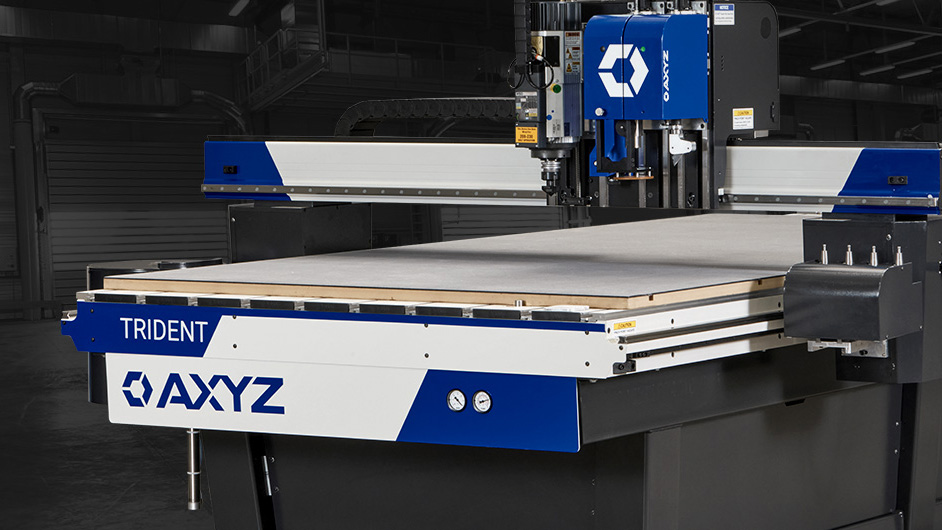 Anyone who has a basic understanding of business automation will know that a CNC Router is a smart investment if you're serious about increasing productivity and your profit margin. If you're in the sign, graphics or packaging industry, the benefits from using the AXYZ Trident Router are multiplied.  Single focus companies can now enter multiple markets, from interior and exterior sign-making, graphics and print finishing, foam packaging or point of sale displays. Business is not only about efficiency and productivity, its now expanded to attract new customers and new revenue for your company. An important edge in a very competitive marketplace.
The Trident is known for its versatility and speed. With triple-head technology, a twin-knife and heavy-duty router spindle, it delivers lightning fast cutting and overwhelming power to take on the broadest range of materials. From routing aluminium and acrylic to cutting and trimming paper, vinyl, foam board, and rubber, the opportunities to create new products are endless. A much larger process area (60 inches/1.52 m to 128 inches/3.25 m in width and 48 inches/1.21 m to 50 ft/15.24 m in length) makes it easier to delve into items you may not have even considered before, like brackets, fixtures or shelving units that attach to your signmaking creations. Knives such as the tangential, oscillating, or a combination of both, with blades up to 4.75 inches long, make it easier to cut any depth of material. Combine all these features together and you're working with the most versatile, configurable machine in the industry.
Popular Applications
The Trident includes a vast array of cutting applications, including:
Graphics and Print Finishing – Cut-to-print using multiple tools for all materials
Signmaking – All types of 2D and 3D signs in wood, metal and plastic
Foam Packaging – 2D and 3D processing with router and knife tooling
Point of Purchase – Display stands, fixtures and fittings
Additional Options
Optimize the Trident's capabilities by adding an Automatic Tool Changer (ATC) or AXYZ AVS camera registration system.
The ATC automatically selects the correct tool without operator involvement, available in 7, 10, 14, or 21 station tool holder capacity.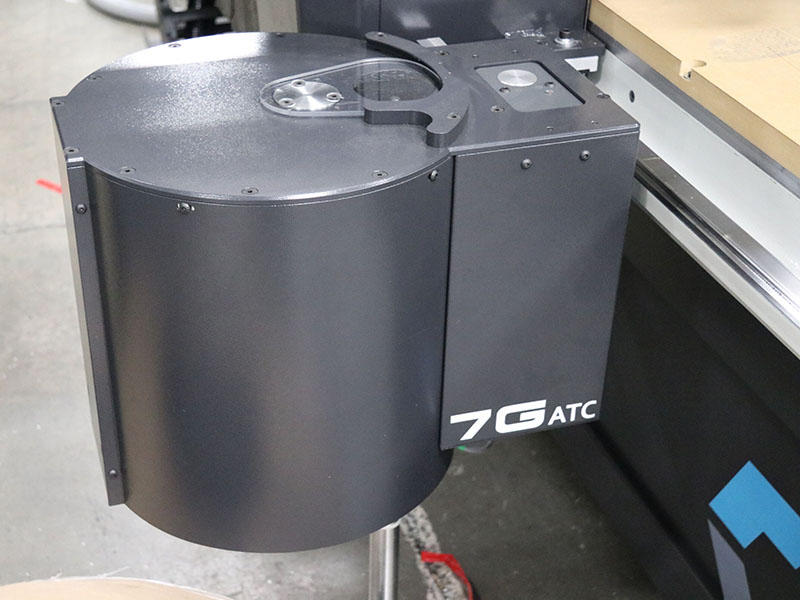 Automatic Tool Changer
The AVS system quickly finds and recognizes conventional registration marks to adjust the cutting path, providing exact alignment and 100% accuracy.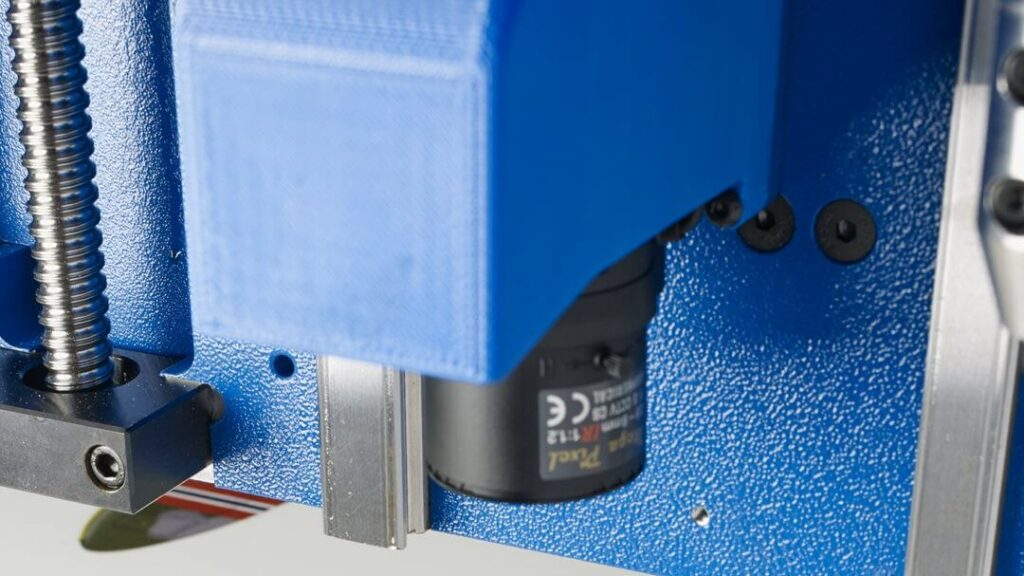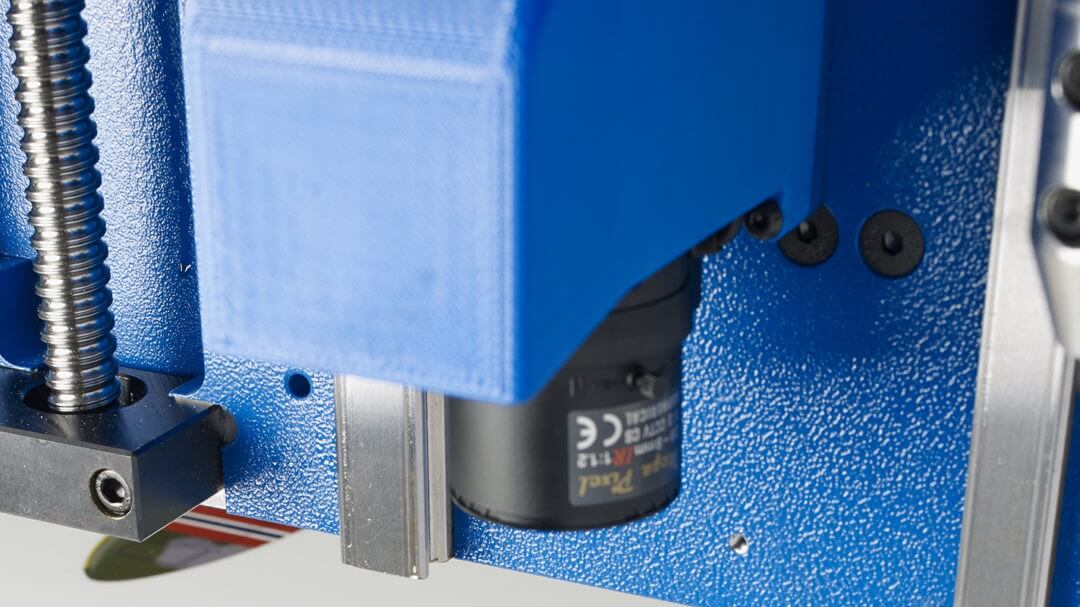 AVS System
A Customer's Story: Landmark Signs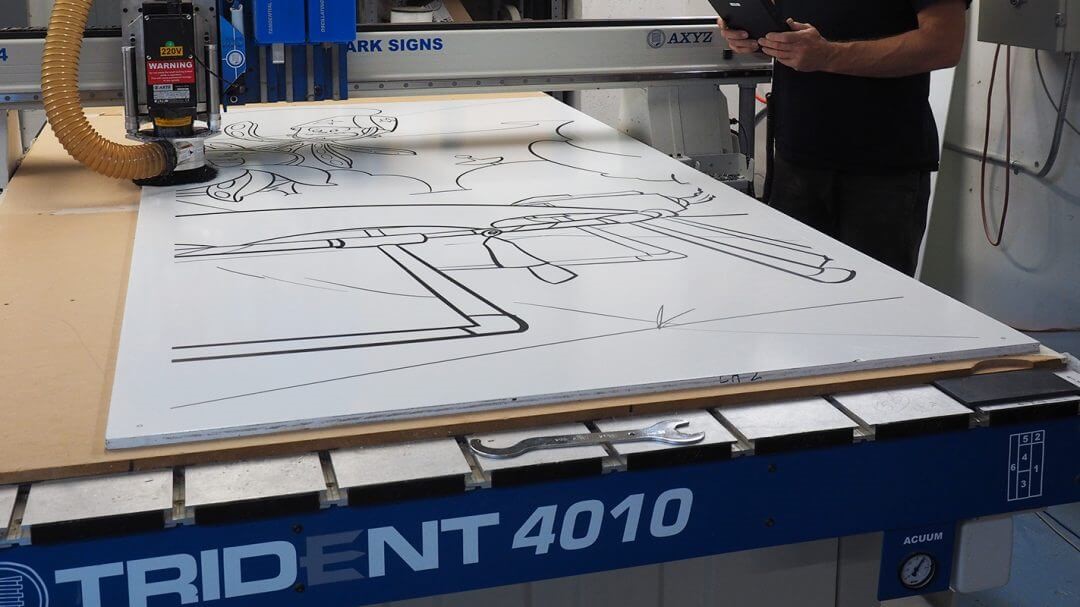 San Francisco based company, Landmark Signs, needed to expand their capacity to cut new materials so they could attract new customers. They also wanted software that matched the camera and UV printer registration, eliminating the need for manual cutting adjustments. After purchasing the Trident in 2015, company owner Bill Stender states that the company's ability to cut graphics on every kind of substrate was revolutionized, foreseeing "an even greater range of products and services for our customers."
Videos
Watch clips of the Trident in action, performing applications in signmaking or graphics and print.
Questions?
For inquiries about the Trident, contact a member of your local Customer Care Team or fill out our online contact form.
For Trident's accessories and options, visit CNCshop.com and take advantage of our latest promotion.