AXYZ Infinite Accelerates Business Growth for UK Furniture Manufacturer, Kindercraft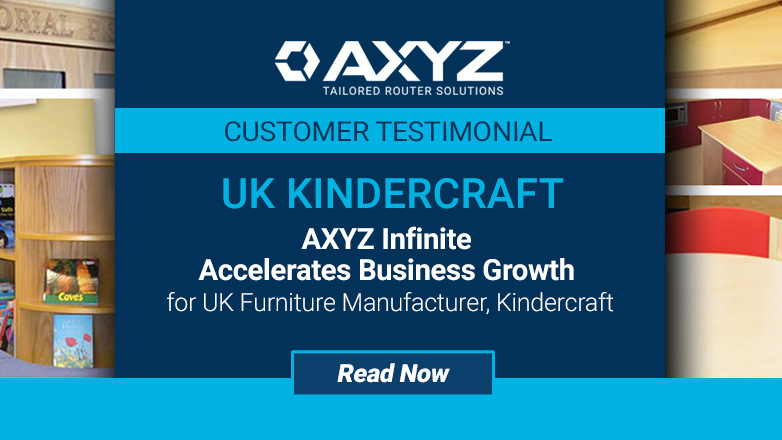 The latest AXYZ Infinite multi-purpose CNC router has recently been installed at one of the UK's leading manufacturers of furniture and associated equipment supplied to the educational sector. The perceived higher performance capabilities and important new machining enhancements provided by the Infinite were pivotal to the rapid business growth and commensurate increased productivity levels at County Antrim, Northern Ireland-based Kindercraft.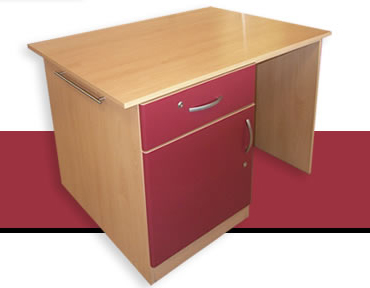 The company employs mainly melamine faced veneered MDF and birch plywood to manufacture a wide range of hand-crafted high-end products. These include both standard and tailored classroom desks, chairs and tables (including those covering special needs requirements), general storage, fitted washroom and kitchen units, computer suites and reception area furniture. The company's in-house design service works closely with school equipment specification and purchasing authorities in selecting products considered most appropriate for the accommodation of different age groups. These include products in a wide choice of different sizes, shapes and brilliant colours that enables the creation of highly individualistic design themes.
Infinite Router Reinforces Successful Partnership With AXYZ
Installation of the AXYZ Infinite could be described as the apogee in a long-running and highly successful business partnership forged between AAG and Kindercraft. In 2002, the company installed an AXYZ 4008 twin-head router to undertake work previously carried out manually. This was followed in 2006 by a need to upgrade to and replace with the larger-format AXYZ 6010 router to meet an increased customer demand. The addition of the latest AXYZ Infinite 6010 machine came in 2020, incorporating a seven-station Automatic Tool Change system for work requiring multiple tools. Due to a further exponential increase in production capacity that a single machine simply could not handle, the Infinite became the obvious choice as the new router to join the inventory.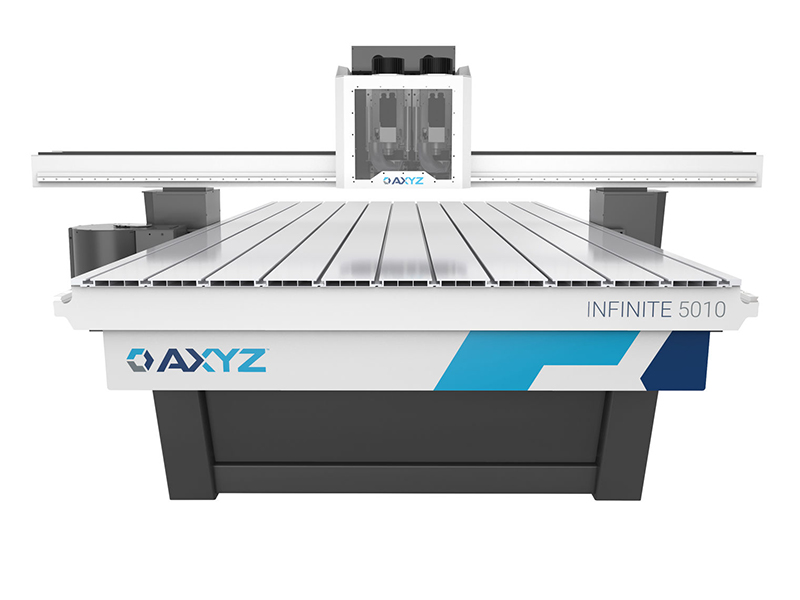 Infinite Benefits Key For Furniture Fabrication
The AXYZ Infinite can be configured with a choice of single, dual or triple routing/cutting heads to accommodate varying application requirements. It is available in a choice sizes and incorporates an expandable processing bed area of up to 10.66 feet (3,251mm) in width by an impressive 50 feet (15.24m) in length. Key design features include the familiar solid steel frame construction to withstand the most vigorous machine operation likely to be encountered and an aluminium t-slot vacuum material hold-down facility. These are supplemented with a new carriage design to enable easier routine machine maintenance and for installing future machine upgrades, an ultra-efficient dust extraction unit for enhanced machine performance and a new misting system to provide improved machine cooling and lubrication.
Other optional production enhancements include the AVS (AXYZ Vision System) for optimum routing/cutting precision and the latest helical rack and pinion drive system. This incorporates a multi-teeth configuration that helps spread the workload more evenly, resulting in faster material throughput and wastage and ultimately a longer than normal machine life.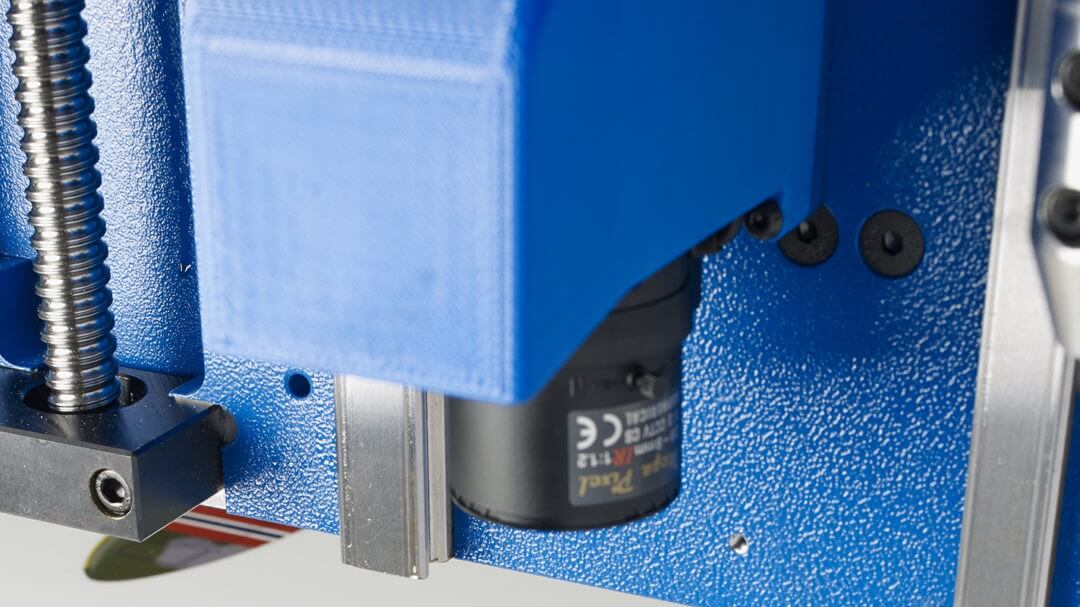 Contact: For more information on Kindercraft, visit their website.
Read about the Infinite and other AXYZ Routers here.
For the latest offers on CNC parts/tools and service, visit CNCShop.
Get in touch
Join our team
Your perfect job is one click away. Take a look at our current opportunities here.