Manufacturing automation goes one step further with the new Pendulum Processing App, now available for download on CNCShop.com. This App makes it easy to combine all your NC files into one single file that you can use on any AXYZ CNC router.  No more running to one end of the table to load a new NC file on the AXYZ Controller. Save time and money with this simple automation feature.
HOW THE PENDULUM APP WORKS
Once the App is downloaded, you can stitch all the NC files you need to run different cutting projects continuously on the same CNC machine. For long machines such as those that are 20' or longer, this app reduces the amount of time required to process multiple sheets on machines setup to run a front and back operation.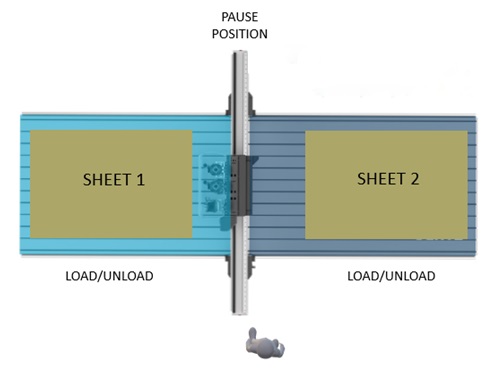 Three Simple Steps:
Parts are machined at the front of the CNC router (Sheet 1). When complete, the cutter will move to the middle of the table and pause.
Press OK on the SMARTConsole.
The cutter then moves to the next sheet and complete (Sheet 2). Upon completion of Sheet 2, the cutter will move to the pause position and if further sheets are part of the job, will continue the cycle.
NEED MORE INFORMATION?
Fill out our online contact form or speak to your local Customer Care Team. For parts and accessories, visit CNCShop.com and check out our latest promotion.