Check any online forum where machinists share ideas, and questions about how to cut aluminum properly on a CNC machine pop up on a regular basis. Identifying the proper tools, correct speeds and the importance of chip extraction are all hot topics keeping these boards alive. But there's one thing about cutting aluminum that warrants special attention – the design of the router itself. You can buy all the special router bits you want, but if the CNC machine is made out of cheap, lightweight material, the quality of your cut will be severely impacted.  This is why the heavy-duty AXYZ METALWORKER router is ideal for cutting aluminum.  With products ranging from kitchen utensils to window frames to aerospace parts, a reliable CNC router is integral if you want to be part of a thriving marketplace. Here's how the METALWORKER will help you get there:
1. REDUCES VIBRATION
A heavy-duty steel base and steel gantry greatly reduces vibration that negatively impacts the quality of your cut. Vibrations from tools, secondary machines and even the motion of the router itself are dampened when the frame and gantry are made out of steel.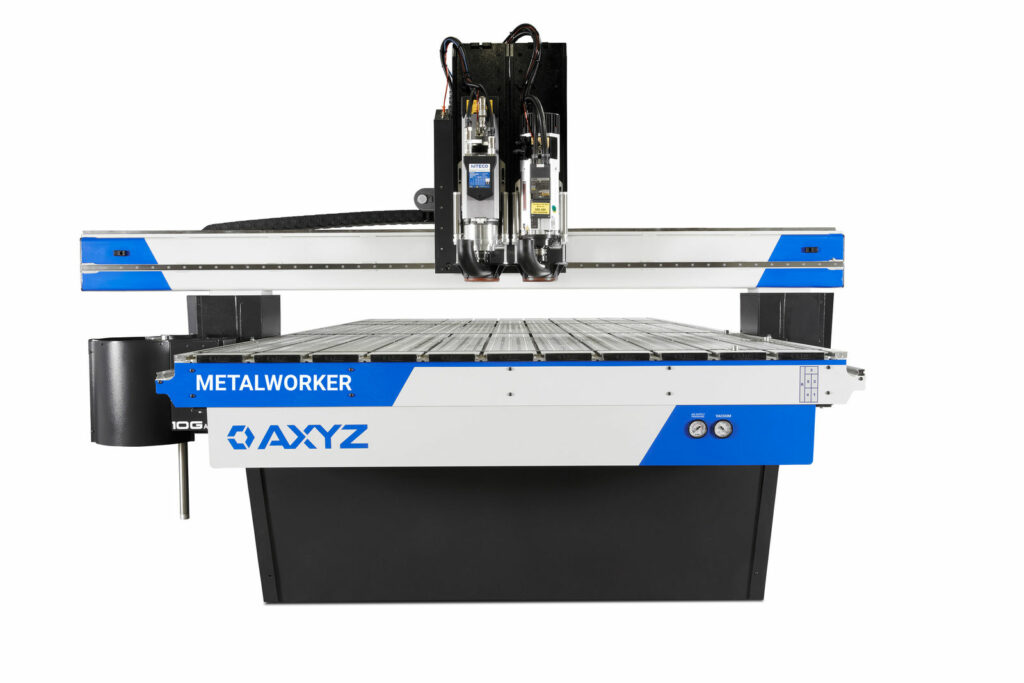 2. INCREASES PRODUCTIVITY LEVELS
The METALWORKER comes with the choice of routing spindle – from manual, quick release to high power, high speed spindles – optimizing the processing of rigid sheet materials, as well as increasing productivity levels.  Combine this with the rigidity of a sturdy frame, and your output capacity will reach higher levels that less sturdy machines can't handle.
3. GREATER ACCURACY, SMOOTHER CUTTING
Standard helical rack drive systems and high-tolerance components make it possible to achiever higher accuracy and smoother cutting of parts. It also contributes to a quieter running machine.
WATCH THE METALWORKER IN ACTION
Here's a video that captures all the great features that come with the METALWORKER CNC Router, making it ideal for aluminum as well as all other non-ferrous material.
FOR MORE INFORMATION
Contact us today to discover more reasons to choose the METALWORKER.  If you're interested in waterjet cutting, check out WARDJet.com and the variety of waterjet cutting solutions available.  For parts, accessories and router options, visit CNCShop.com and take advantage of our latest promotion.