Acrylic is fast becoming the number one choice to replace glass in the sign and graphics industry.  For one, it's stronger, more robust, and lighter, making it the ideal solution for commercial use. Equally important, is its cost. Acrylic helps you save money, so you can allocate extra funds to other areas that facilitates business growth. But what about those edge finishes? Without a versatile router like the Infinite, you might end up with edges that look sloppy and unprofessional. If you're in the business of making Point of Purchase (POP) displays, this will either make or break the effectiveness of your presentation. Take a look at any POP display in a high-end retail store and you'll notice how smooth those edges are. To get that same polished cut, you're going to have to invest in a CNC router. Not only will your acrylic edges be more polished, but unnecessary steps like sanding and using a flame polisher are eliminated. This saves time, improves production efficiency and guarantees a quality finish every time.
3 FEATURES FOR QUALITY EDGE FINISHES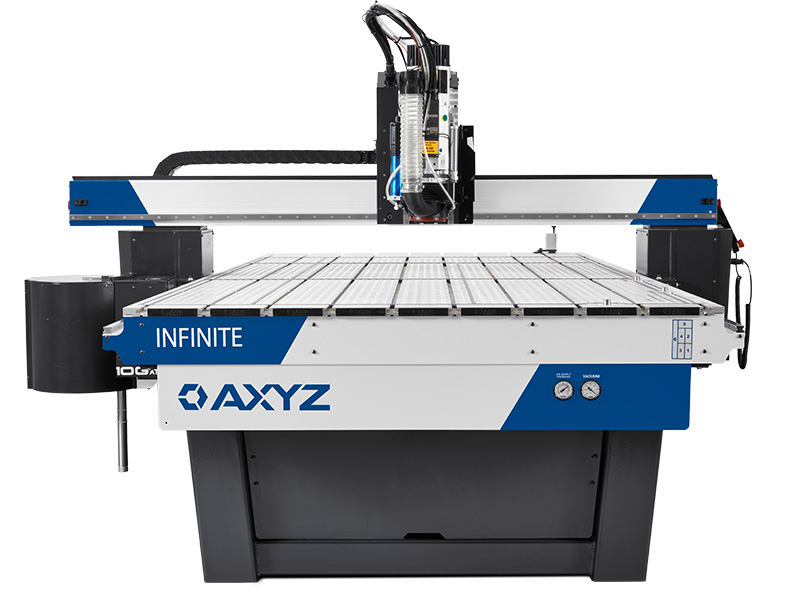 A strong machine is a key starting point to successfully create your POP display. When we redesigned the Infinite Router, we made it more versatile than its ever been before. This makes acrylic easier to cut, get clean edges and produces higher volumes. Other factors include:
A strong, rigid base – The Infinite is a heavy-duty router that allows you to couple a strong base with a stiff, solid gantry. A strong structure supports quality edge finishing, offering a robust and reliable unit while helping to minimize vibration and movement.
Helical rack systems and servo drive motors – Both help to deliver smooth movement and greater accuracy. As a result, vibration is kept to a minimum. The Infinite can cut at a higher speed, producing higher volumes without losing quality.
A competent vacuum hold-down system – The vacuum hold down ensures material stays in the correct place throughout the cutting process. Even the slightest material movement can put the software program, spindle and material out of sync, invariably ruining the acrylic piece completely.
SELECTING THE RIGHT TOOLS
Choosing the right tools and accessories will have a huge impact on the quality of your edge, and the overall look of your POP display. When choosing collets and router bits, keep the following tips in mind:
Choose the right type of collet to fit your spindle. Collets come in all shapes and sizes, so buy one that best suits your machine or you'll end up with poor quality cutting. Visit the collets selection in CNCShop.com for specific dimensions and spindle types.
Change the collets regularly. After 3 to 6 months of use, they won't hold a router bit as straight and true as when they were new. This will also help to prolong tool life.
Match the collet shank with the tool shank diameter. Manufacturers often quote sizes in metric and imperial, so make sure you read the data correctly to avoid mistakes.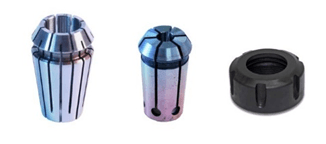 Determine what kind of flute you need (i.e., single, twin or triple flue), as there is an enormous choice of CNC Router tooling available. Selecting the right tool for the job can make the difference between a perfectly smooth and clean cut, or something that looks like it's been hacked out with a saw. Read our past technical tip, "The difference between Upcut and Downcut CNC Router Bits"
Use a high-quality router bit when machining acrylic. An upward spiral, single flute geometry usually gives best results. The upward geometry provides a smooth and consistent finish and ensures optimal chip extraction.
For best cut quality, always choose a tool with the shortest flute length that will cut through your material. This helps to reduce cutter deflection and chatter.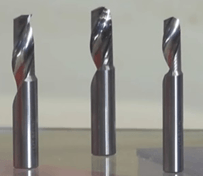 Use the Infinite to transform your POP displays into ones that stand out from the competition. It's the only router you'll need to handle one of the most challenging jobs with optimal performance and precision.
QUESTIONS?
If you need further information, call your local Customer Care Team, fill out our online contact form or browse through CNCShop.com for all your tooling needs.  Don't forget to take advantage of our latest promotion!