Since its initial launch in 2015, the Trident CNC router-knife hybrid has become the backbone to hundreds of businesses all over the world. With the demand for greater automation and speed increasing over recent years, we released a new version of the Trident – faster, quieter, and more powerful than ever before.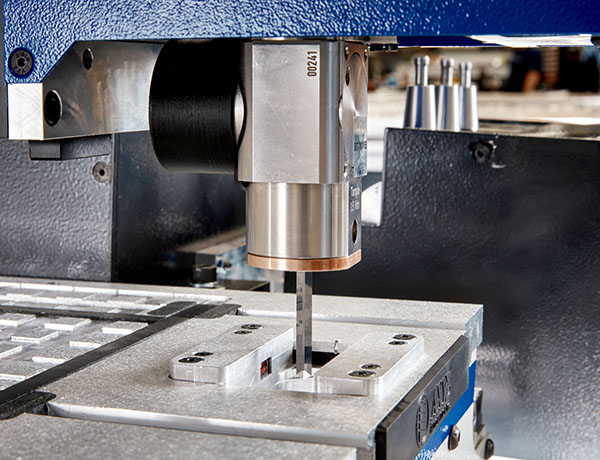 INTRODUCING A NEW KNIFE CALIBRATOR
The new Trident comes loaded with great new features designed to directly improve your production workflow. One of these is a new knife calibrator device that:
1. Automatically measures the knife tool length – Qualifying your knife tools automatically eliminates the need for manual setups, a huge time-saver.
2. Precisely identifies blade angle and applies correction – Correcting the angle of the blade prolongs the life of your tools and other consumables, a great cost-savings.
3. Is compatible with all standard blades, making the cutting process simpler and more efficient.
WHAT ELSE IS NEW?
1. The new electric knife oscillates quicker, is more powerful, and can be used to process rubbers, foam boards, corrugated cardboards at greater feed rates.
2. For high volume productivity, the 4-position tangential knife tool changer will ensure your machine keeps running continuously without the need for operator input. Simply program jobs to use multiple tangential knife cutting tools and the machine will store all necessary parameters. This allows for quick and easy tool changing during jobs. Crease, perform v-cuts, or use the circular pizza wheel for textiles and other fabrics. The multi-purpose tangential knife device alongside the new tool changer brings a new level of automation to your business.
3. The new Trident now shares the same modular frame design as our popular AXYZ Infinite model. This means greater size configurations are available to suit your specific applications. From 60" to 85" in width and lengths from 98" to 120", you can minimize your total footprint with a full process CNC machine.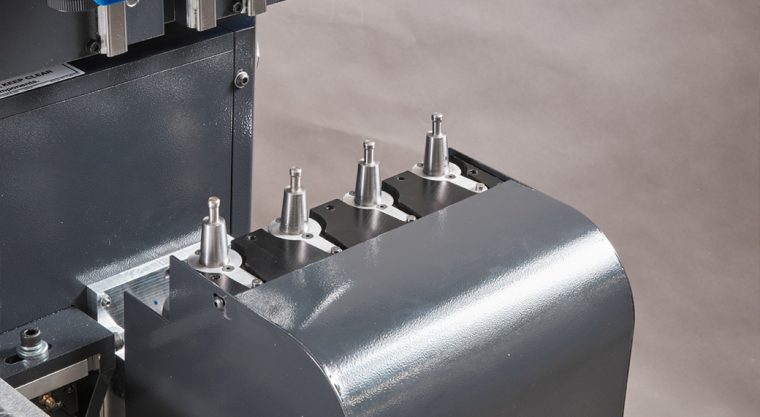 VERSATILE, HIGH-PERFORMANCE FOR MULTI-PURPOSE JOB CREATION
The Trident's versatility comes from the compact, standard 3 device configuration including spindle, tangential and oscillating knife. Whether it's cutting solid aluminum, aluminum composites, high-pressure laminates, hardwoods, and plastics, cutting and routing has never been easier. Available options include multiple high-speed spindle horsepower ranging from 5HP collet-type to 15HP quick-release Automatic Tool Changer devices.

Cut a wide variety of material with the new Trident CNC router
QUESTIONS?
To find out how the Trident can help your business grow, complete our online contact form, and connect to a Sales Rep.
For parts, tools and options, visit CNCShop.com and tap into a network of experienced CNC experts, easily accessible, and ready to assist with all your tooling needs. From knife blades to router bits to collets and cones – CNCShop.com is today's CNC Marketplace.