How AXYZ Series Helped a Canadian Online Business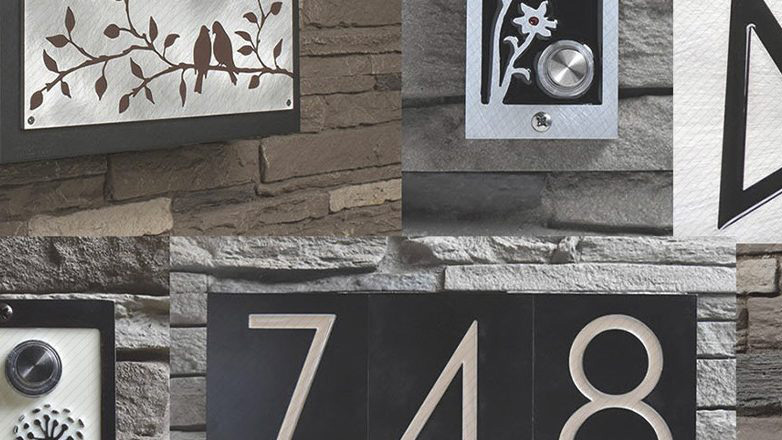 Recently, we had a chance to chat with Susan Jones, Owner/Sole Proprietor of Modish Metal Art, about what it's like owning a CNC router and how it has helped her business.
Q – How did you get started in the business?
A – I started the business around 2010 when I purchased a hobby grade CNC benchtop milling machine. I was an oilfield machinist at the time. Prior to that, I was an Interior Designer. I started making decorative doorbell plates, as the size of my machine restricted my products. House numbers were made one at a time. Currently, I focus on local markets within Alberta, some larger seasonal ones plus selling online through two websites. (Etsy as well.) My customers are mainly homeowners. I am now working entirely from home with my business, which is flexible with having younger children.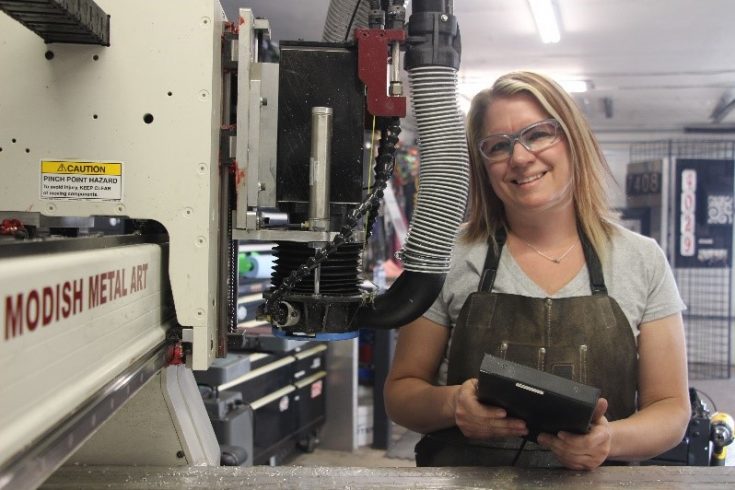 Q – How are you dealing with COVID-19 and managing your business?
A – There have been many challenges since Covid-19. I work from home with 2 kids in elementary school. Having them around fulltime with their schoolwork doesn't leave much time for production. There are many late nights and early mornings to keep up with the online and custom orders. Although the markets I attend have all been cancelled, the online sales have increased, and I've been very busy.
Q – Why did you purchase a CNC machine?
A – The machine was purchased as an upgrade from what I had. I wanted to make new products and be more efficient. I now make multiple items almost 10 times faster than my previous machine. Higher spindle speed and vacuum hold down has been a game changer.
Q- Why did you choose an AXYZ router?
A – The machines are high quality and made in Canada. They also include many machine options and add-ons. For instance, I find that the machine controller is easy to use. Also, the pressure foot and swarf suction are much cleaner. Other important factors are their technical/equipment support (set-up technician, online videos/tutorials, CNCShop.com, online troubleshooting) plus having a sales office in my province made the entire process simpler.
Q – What AXYZ model/tools did you buy?
A – I bought the AXYZ Series 2006 to cut aluminum material from ¼" – ½" thick. I use tooling that ranges from 1/32" – ¼" in diameter.
Q – What do you make with your AXYZ router?
I make functional art mainly for the home, such as doorbells, house numbers, mailboxes, key holders, magnets, garden art, Christmas ornaments, snowboard stomp pads and more. I've also made an aluminum fireplace trim kit for my new insert. Occasionally, I use it for the odd custom Lexan and plastic jobs. I have made flush register covers for my vinyl plank flooring. I use it for so many things!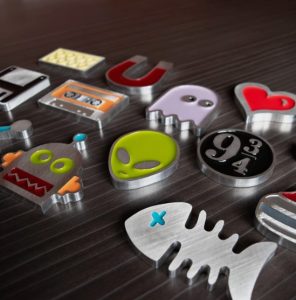 Q – What are the business improvements that have been made since using the machine?
A – Definitely, the machine time is a huge business improvement. What used to take 30 minutes, now takes 3 minutes with some items. The spindle speed and table size have aided with this, especially with the larger tooling. The machine size has provided me with opportunities to make new products and be more efficient with material use. Using the vacuum suction instead of clamping eliminates the need for tabs on some products, which means less finishing work. I have also acquired new customers, manufacturing products that aren't part of my regular business.
Q- What advice do you give women who are considering the manufacturing industry as a career?
A – Just go for it. The industry has more women than ever before. It's rewarding to make an item and have someone invest their money and trust in your product. Women have a strong attention to detail, and the desire to do better. There should be no limits.
"I love my AXYZ machine. I have made new products and attracted customers from a range of industries. It's easy to use, efficient, stays clean and I have support if ever needed.  It has been a great investment and without it, I wouldn't have a business."
Susan Jones – Owner/Sole Proprietor, Modish Metal Art
For more information on Susan and her work, watch this video or visit her website, Modish Metal Art.
CONTACT US:
For questions about our tailored router solutions, complete our online contact form or call a member of your local Customer Care Team.
Get in touch
Join our team
Your perfect job is one click away. Take a look at our current opportunities here.